For the second consecutive year, Computer Associates International Inc. named Integrated Concepts Inc. its Unicenter TNG Reseller of the Year.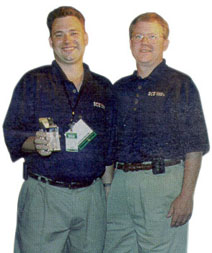 The software developer has been presenting resellers with awards for implementation of CA-based solutions for the past four years. Using an elaborate rating system that measures revenue generation, sales strategy and customer write-ups, CA honored 11 companies in several categories from a field of more than 2,000. CA presented the top honors to Chris Russell, president of Integrated Concepts, and Rusty Miller, chief executive of the VAR.
Other winners this year include Vanstar Corp., Ingram Micro Inc. and Merisel Inc.
Dallas-based Integrated Concepts, which specializes in enterprise management, business strategy and design, offers solutions to help customers increase profits, said Jim Mullins, director of marketing at Integrated Concepts.
"CA's products have been traditionally used to help reduce the cost of IT infrastructure and management," Mullins said. "Through agent development you can deliver solutions to companies that deal with the revenue-production side of the company, not just the cost-management side."
A close alliance with CA helped Integrated Concepts boost its sales: The VAR replicates CA's sales and marketing strategy by offering integration services to aid in the marketing of CA's product line, including its Unicenter TNG network-management software, Jasmine object-oriented database and Opal, which modernizes legacy applications.
"We view ourselves as a marketing company that offers very high-quality implementation services," Mullins said. "Our strategy is to successfully market the products, not just our professional services."
Integrated Concepts won a contract with the Bethesda, Md.-based National Cancer Institute last month. It expects to use Jasmine to manage the database infrastructure in workflow and data management and run a Web-based workflow management tool on top of that.
The VAR plans to use Unicenter TNG to monitor and provide diagnostics for IT, and eventually non-IT, equipment for an enterprise system that would be deployed in the organization's cancer research labs.
In addition to health care, Integrated Concepts offers high-end CA software for large enterprise banks, financial institutions and manufacturing.
Integrated Concepts shows potential customers examples of how CA-based solutions generate income, said Rich Chiarello, executive vice president of worldwide sales at CA, Islandia, N.Y. "They really embrace the full CA product line," he said.
At CA World in New Orleans last month, the vendor said it will sell 50 percent of its software through the channel in the next three years, up from about 15 percent to 20 percent today (CRN, May 4). This will present more opportunities, said Erik Mettala, chief technology officer at Integrated Concepts. "From where we sit, there's only one direction we can go and that's up," he said.
Computer Reseller News, June 22, 1998