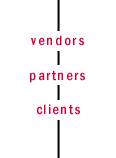 trategic relationships with business partners allow ICI to share technical and industry knowledge, and pursue mutually beneficial joint marketing opportunities. To date, ICI has established partner relationships with CA, SAIC, Exide, TDI, Counterpoint Software and a number of other original equipment manufacturers. These relationships facilitate marketing opportunities for ICI's software products and services to be sold in existing and expanded vertical markets.
Such partnering relationships typically allow ICI to access the large client base of its partner in the joint pursuit of selling and servicing software products of CA and ICI. These partnership relationships create the opportunity for not only near term sales but future sales as the client becomes exposed the expanding group of products and services that ICI has to offer.

ICI finds itself in the advantageous position of being pursued by much larger companies that are attracted to ICI's high level of expertise as a single source provider of software services in the Enterprise Management, Internet/intranet and E-Commerce software industries. ICI's growing list of market-influential business partners have combined to provide ICI with the opportunity for enhanced service diversification, revenue growth, international distribution, marketing, and exposure. Strategic partnerships allow ICI to share technical and industry knowledge and pursue mutually beneficial marketing opportunities.
Integrated Concepts customers can rest assured that only the finest technology products will be used in their installation. The technical staff at ICI has conducted extensive research and testing to determine which software packages and hardware equipment represent the "best of breed" solutions to typical application areas. We at ICI take great pride in our use of high quality, name brand systems from partners with established, comprehensive support and maintenance programs.
All of our strategic partners have been selected for their commitment and adherence to the same demanding standards in quality, engineering, and ethics which we also impose on ourselves.