eCOMM™
Electronic Commerce Web Sites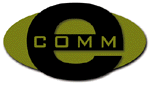 eCOMM from Integrated Concepts, Inc. offers customized eCommerce web-site development with a variety of feature options, including integration of catalog-based presentation of products for sale with shopping cart, billing, shipping, credit authorization, and notification.
eCOMM enhances the reliability of round-trip and point-to-point eCommerce, and reduces the total cost of ownership by using the latest in business object technology.
Jasmine™-based Server
Your customized eCommerce web site runs on a highly capable Jasmine object-oriented server that is designed to handle transactions rates of the world's largest enterprises, and provides automatic encryption and data compression.
Internet-based Application
Replace your expensive dial-up or VAN communications with low-cost, highly reliable Internet connections.
Object-based Application
ICI uses a rapid development methodology to add those features important to your specific business requirements.
Two Categories of Custom Web Sites to Choose From
eCOMM offers the EC Series™ and the Pro Series™ Web Sites, each with a variety of options custom-fit for your eCommerce budget and goals.
FEATURES
Every EC Series or Pro Series Web Site receives the following value-added services:
Needs analysis
Web-site design, including page flow design and graphic concept
Catalog design, including catalog object-oriented design and catalog content
Web-site development, including HTML authoring, programming (CGI, Perl, Java), graphic production, key word site search, VR room graphics*, animation*, audio and video*
Marketing, including search engine registration, marketing consulting
Web-site testing
Electronic commerce, including secure server setup, order notification, online credit card processing
Other services, such as domain name registration, web site knowledge transfer, and web site follow up
* Some of these items are options with the Pro Series Web Sites.

Here's Just a Sampling of the eCOMM Options…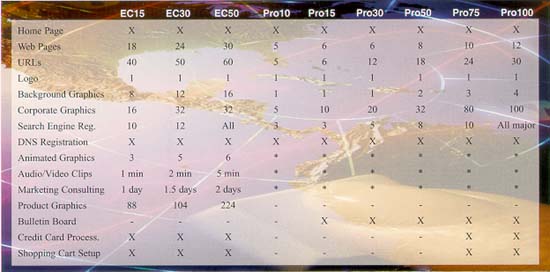 *optional

SYSTEM REQUIREMENTS

There are no other requirements for customers who want ICI to configure hardware and software. For those customers who prefer to host the ICI Virtual Line of eCommerce solutions, the site must have installed and operational all necessary supporting hardware and software at supported release levels (including network interfaces). Minimum software and hardware requirements include, but are not limited to:
Windows®NT 4.0 or Windows95 must be installed, configured and fully operational, including TCP/IP connectivity, or
Sun® Solaris™ must be installed, configured and fully operational, including TCP/IP connectivity
Availability of key client staff members to support the project as described above and as otherwise deemed necessary
Availability of information concerning the client's systems, applications and network structures that completely and accurately reflects the status or conditions currently in effect and/or any future requirements
Availability of and access to all project-required computer systems, as well as logins and passwords with sufficient authority to accomplish the tasks described above
Availability of any office services relevant to the delivery of these services (telephone, office supplies, copying capabilities, etc.)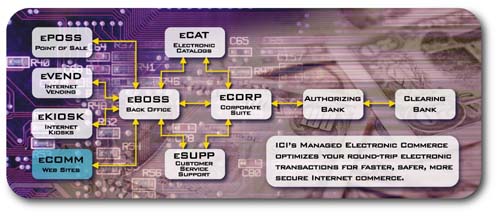 eCOMM is a comprehensive web-based electronic commerce solution that uses low-cost Internet communications to optimize eCommerce transactions. The eCOMM custom web-site solutions are a component of ICI's Virtual Line of electronic commerce products, including ePOSS™, eBOSS™, eCORP™, and eVEND™, that provide integration and sales management services. These services let our customers transition from legacy approaches to efficient low-cost methods for managing sales operations using secure Internet technologies.
For additional information on this and other ICI Virtual Line of eCommerce solutions, contact:
Integrated Concepts, Inc.
14683 Midway Road, Suite 200
Addison, TX 75001
972-701-8800
972-934-1000 fax