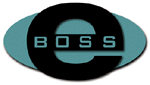 eBOSS from Integrated Concepts, Inc. is a back-office solution that easily integrates with our ePOSS™ application for complete point-of-sale management. Combine ePOSS and eBOSS with eCORP™, and you'll get unmatched store-level, division-level, and corporate-level sales, inventory, purchase order, and time-accounting functionality.
eBOSS enhances the reliability of back-office systems and reduces the total cost of ownership by using the latest in business object technology.
Windows®-based Application
The easy-to-use graphical interface greatly enhances the training of your sales floor staff.
Internet-based Application
Replace your expensive dial-up or VAN communications with low-cost, highly reliable Internet connections.
Object-based Application
ICI uses a rapid development methodology to add those features important to your specific business requirements.
Touch-Screen Capability
eBOSS works in a touch-screen environment as well as with a standard keyboard and mouse.
eBOSS collects information from one or multiple POS systems and uniquely displays inventory information for designated stores over the Web. This feature allows eBOSS users to conduct Internet searches of inventory items on a store-by-store basis.
FEATURES
eBOSS Customer-Information Management
eBOSS provides extensive customer information records such as date/time of last sale, average sale amount, purchase frequency, buying habits, credit information, etc. eBOSS CIM is flexible and can be extended to capture almost any type of customer data you need to build your marketing intelligence database.
eBOSS Vendor-Information Management
eBOSS lets you track and maintain all vendor records. You can manage records by vendor ID, vendor purchase date, purchase volume, item type, name, or SKU. eBOSS VIM can even track your payment history with your vendors.
eBOSS Transaction Management
Managing transactions is easy because eBOSS monitors each phase of the transaction for errors and omissions, and ensures transaction integrity. eBOSS also has an intelligent adaptive fraud- detection agent to minimize losses from fraudulent transactions.
eBOSS Transfer Management
eBOSS automatically informs all stores of distributions and/or transfers from a central location as part of each day's polling process. By comparing "days of supply" for items in several stores, eBOSS can recommend those transfers that will optimize sales.
eBOSS Sales-Reporting Management
Managing sales reporting has never been easier. eBOSS gives you the flexibility to report sales by employee, register, department, time of day, merchandise SKU, or Category. Sales Team commissions can be automatically computed based on selected SKUs sales volume or a user- customized formula.
eBOSS Contact Information Management
Managing contact information with eBOSS is simple. The ACT-compatible CIM allows you to transfer your existing data without worrying about data loss or errors from re-entering the data. The Custom structure of the contact information fields allows you to define what information is important to you.
eBOSS Merchandise Receiving
Manage merchandise deliveries at each location through Scanning Received Merchandise, Error Handling and Reporting, Closing Purchase Orders, and Merchandise Receiving Reports.
eBOSS Inventory Management
Conduct inventory searches based on vendor, department, class, style, color, and size and by store location. Other information reported includes stock on hand, stock on order, goods received/sold, minimum/maximum levels.
eBOSS Purchase-Order Management
Add new merchandise descriptions into inventory, include it in the PO, and print price tags. The one-step receiving process updates inventory by units and cost, and implements authorized price adjustments. eBOSS also supports drop shipments to multiple stores.
SYSTEM REQUIREMENTS
There are no other requirements for customers who want ICI to configure hardware and software.
For those customers who prefer to host the ICI Virtual Line of eCommerce solutions, the site must have installed and operational all necessary supporting hardware and software at supported release levels (including network interfaces). Minimum software and hardware requirements include, but are not limited to the following:
Windows®NT 4.0 or Windows95 must be installed, configured and fully operational, including TCP/IP connectivity, or
Sun® Solaris™ must be installed, configured and fully operational, including TCP/IP connectivity
Availability of key client staff members to support the project as described above and as otherwise deemed necessary.
Availability of information concerning the client's systems, applications and network structures that completely and accurately reflects the status or conditions currently in effect and/or any future requirements.
Availability of and access to all project required computer systems, as well as logins and passwords with sufficient authority to accomplish the tasks described above
Availability of any office services relevant to the delivery of these services (telephone, office supplies, copying capabilities, etc.)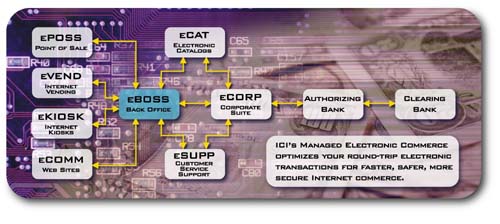 eBOSS is a comprehensive back-office electronic commerce solution that uses low-cost Internet communications for optimizing eCommerce transactions. The eBOSS back-office solution is a component of ICI's Virtual Line of electronic commerce products, including ePOSS™, eCORP™, eVEND™, and eCOMM™ Web Sites that provide integration and sales management services. These services let our customers transition from legacy approaches to efficient low-cost methods for managing sales operations using secure Internet technologies.
For additional information on this and other ICI Virtual Line of eCommerce solutions, contact:
Integrated Concepts, Inc.
14683 Midway Road, Suite 200
Addison, TX 75001
972-701-8800
972-934-1000 fax