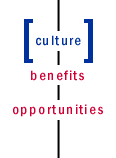 DIVERSITY
When looking to recruit new talent for our staff, we seek the best people for the job opportunity, who have the capacity to relate to and understand a wide diversity of cultures. We prefer to hire people who can grow with the company as we expand and consolidate, not only in Texas but nationally. Our key criteria for consideration include absolute integrity, leadership ability, high drive, energy, and the ability to be motivated and challenged by a competitive and constantly changing environment.
We believe in creating and maintaining a supportive environment, one in which all are respected for their uniqueness and encouraged to reach their maximum potential. Given this philosophy, we firmly adhere to the ethic where diversity is the responsibility of every manager and employee.
ICI does not tolerate discrimination or harassment in the workplace for any reason.
We are committed to providing a fully participative and non-exclusive workplace for all ICI stakeholders. With our total commitment to diversity, we offer equal employment opportunities to all applicants and employees without regard to race, color, religion, sex, national origin/ancestry/citizenship, age, marital status, disability, sexual orientation, veteran or any other legally protected class.