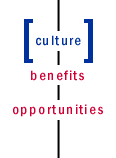 fter 8 years of existence, ICI prospers because its staff quickly adapts to change, steadfastly renews their operating misson, firmly stands up to tough issues, dares to think differently, and acts unhesitatingly. Honesty, integrity, and ethical conduct form the foundation of our cultural framework. We strongly believe in constant respect for people and uncompromising integrity in all our actions.

Click on pictures for more information.
From our humble beginnings to our sophisticated Internet engagements of today, ICI has journeyed a great distance in a short amount of time. We are still amazed at how swiftly we have grown from a tiny PC services company into a multi-faceted enterprise management and advanced software development corporation. What can possibly happen next?...
ICI appreciates the uniqueness of each individual, and we strive to maintain a workforce encompassing cultural, gender, physical, racial, religious and other differences. A diverse workforce also embodies two of our strongest values — teamwork and innovaton.
Whether adopting needy families, volunteering in reading programs, sponsoring students or in countless other ways, ICI employees individually or as a group make the world a better place to live.
One must constantly stretch his or her knowledge envelope to maintain continued success in today's fast-paced technology world. With our constant need for innovative and out-of-the-box thinking, we strive to empower ICI employees with facilitated educational opportunities.