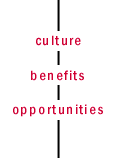 t Integrated Concepts, Inc., we believe that each employee contributes directly to the company's growth and success. For that reason, we seek to employ individuals with the vision and confidence to help us continue to deliver successful solutions.
As a well-respected company in the technology community, ICI strives to transfer that same respect to our employees by investing time and money in training and by encouraging innovation. We focus on high achievement and contribution levels and know that this can most easily be accomplished through teamwork.
We believe that the skills of our people are our most valuable assets, as illustrated in the creative results of our participative, cooperative, and highly interactive work groups. ICI requires a degree of innovativeness from our employees that transcends the norm...those who choose to work at ICI give their all, not just enough.
So, if you're looking to pursue a career abounding in diverse opportunities, we'd love to hear from you. Our available positions change frequently, so visit often. We're always looking for more team players!